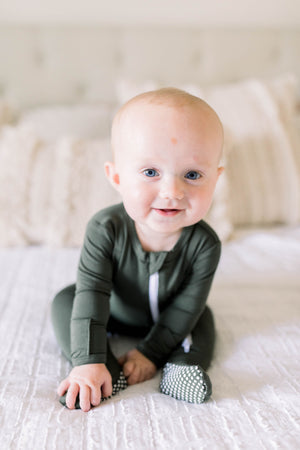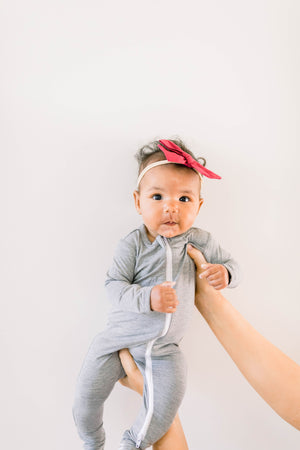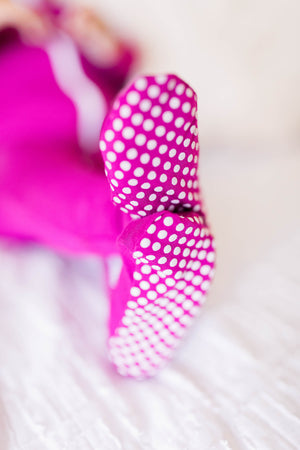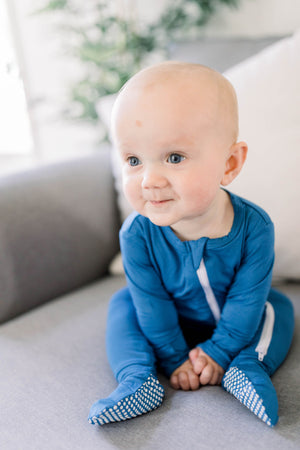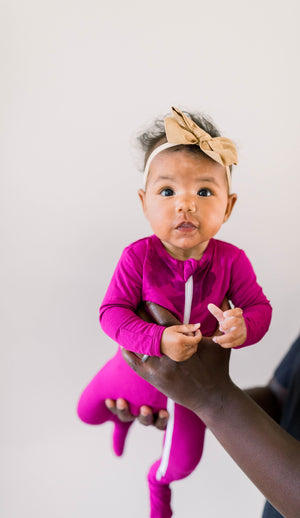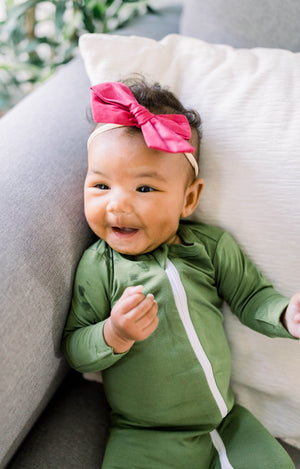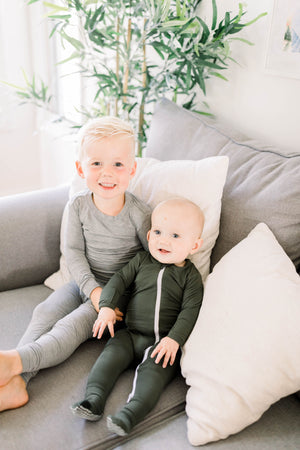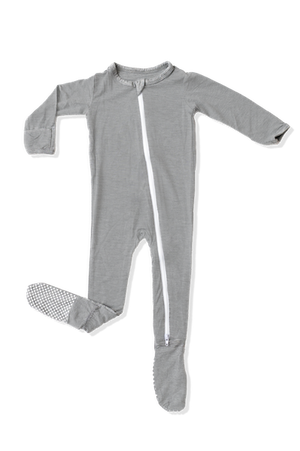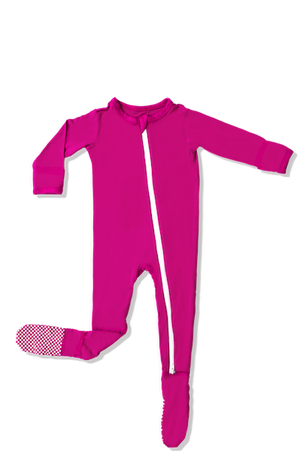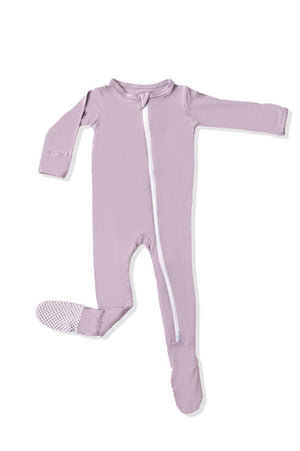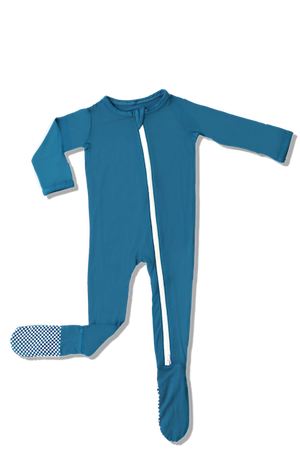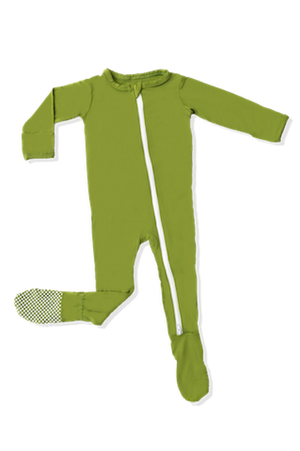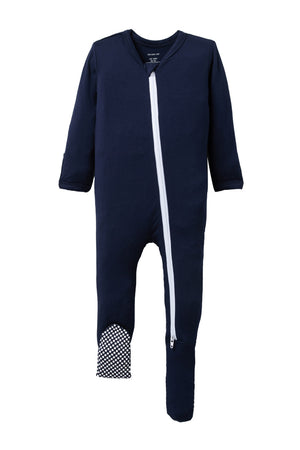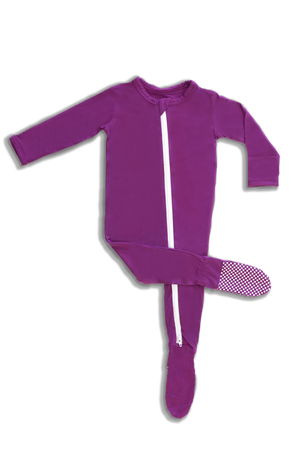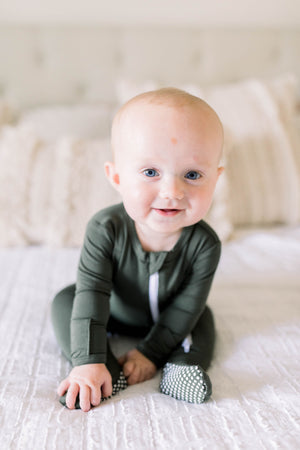 Baby Bamboo Footie Pajamas with Reversible Zipper
FREE SHIPPING AND RETURNS ON EVERY ORDER 
NOTE:
If your favorite color and size are out of stock here, check out our Amazon listing - we just sent tons of inventory there! SHOP AMAZON HERE!
Have you ever changed a baby's diaper in the middle of the night? 
It's a delicate dance. You've got a job to do but you also want to keep that baby as comfortable as possible to ensure they fall back asleep quickly. One rogue snap or button and you're not getting back to sleep for hours.
 Do you find yourself worrying about baby's temperature while they sleep? 
Babies can't regulate their own body temperature until they're 1.5-2 years old. They also lose heat 4x faster than adults. Bamboo fabric better allows for proper ventilation - by trapping cool air in summer and warm air in winter. It's also 3-4x more absorbent than cotton, keeping baby dry, comfortable, and clean. 
That's why we created COO BABY
COO BABY began in 2018 when new mom Kaci grew frustrated with the lack of high quality, functional, and simple pajama options for babies and toddlers. She wanted something that would aid in faster diaper changes, be temperature regulating, easy on sensitive skin, wash well, and allow multiple siblings to get use out of them over time. She tested dozens of fabrics, and finally landed on the perfect bamboo / spandex blend that would allow for all of these things, as well as provide the ultimate softness and comfort, naturally moisture wicking, and sustainable. All COO BABY pajamas are solid, classic colors that will never go out of style. The COO BABY infant footie pajamas have a reversible zipper (or two way zipper) that allow for fast and easy diaper changes in the middle of the night. Kaci has two young children (a new baby and a three year old son) and they are the reason she cares so deeply about the quality of her product and running a successful small business.
WHY

 

ARE COO BABY PAJAMAS

 

#1 RATED?
Our Bamboo Baby Footie Pajamas are made from 95% bamboo viscose and 5% spandex, which is the perfect combination of soft and stretchy material!
Super soft - Our newborn baby pajamas are made from a premium bamboo viscose, an extremely soft, high quality fabric.
Built for comfort - Naturally moisture wicking, our baby footie pajamas are perfect for regulating temperatures in both warm and cold environments to keep your little one cozy regardless of season.
Designed for function - Each of our 0-12m baby pajamas have a reversible (two way) zipper that unzips from the top of the chest or from the foot. This allows for faster, easier, and more comfortable diaper changes for baby!
Designed for safety - Created with your child's safety in mind, our COO BABY pajamas have a slim and snug fit to comply with safety standards, as well as optional hand mittens and feet grippers to avoid baby slipping. 
Go green! - Our super soft bamboo viscose fabric is made from bamboo grass, one of the fastest growing and most sustainable resources. 
Available in a variety of colors for girls, boys, and unisex - these make great gender neutral gifts for baby showers or hand me downs for all siblings! 
What our Customers Say...
"The best jammies ever! I am so picky about the clothing that touches my baby's sweet, precious skin. These jammies are so buttery soft, stretchy, and adorable! The fit like a glove!" - Jill S.  
"We LOVE these pajamas. I've purchased them for every friend who is expecting and they're obsessed too! If you're thinking of buying the softest pajamas out there, look no further. The two way zipper is super helpful, no matter what time of day, but especially at night. My baby loves wearing these! They are breathable but not too thin. If you're on the fence with these, pull the trigger. Definitely worth the investment!" - Ashley
"This fabric is dreamy soft and the perfect amount of stretch!! Love that the fabric is gender neutral (navy) and has the non slip feet. Our sweet girl loves these, I need the grey next! Fits true to size and washes wonderfully!

Update! We just bought another pair of these jammies bc we loved the first so much!! They hold up unbelievable well after a ton of washes and we can't get enough!! Thank you so much!" - Amazon Reviewer  
*****
We'd love for you to try COO BABY pajamas and see what all the fuss is about! If for any reason you don't love them, we offer free shipping and returns on every order.  You can read our
Return Policy here!
NOTE:
If your favorite color and size are out of stock here, check out our Amazon listing - we just sent tons of inventory there!